The ten most undervalued residential real estate markets for June 2021: Florida and North Carolina account for 70% of the top ten markets.  These can be primarily attributed to relatively attractive Price-to-Rent ratios (FL) and tight inventories (NC).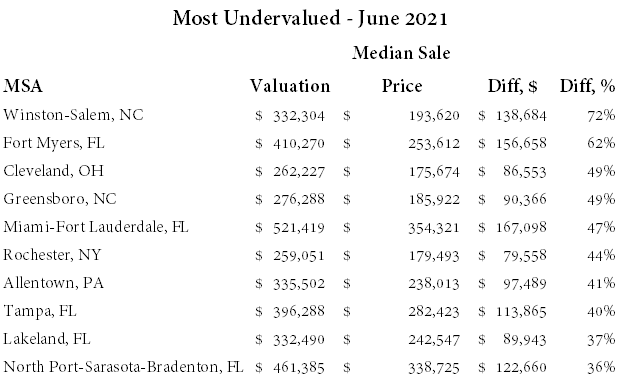 The ten most overvalued residential real estate markets are listed below.  Not surprisingly, Los Angeles is on the list. With a Price-to-Rent multiple over 27x, 9.2% unemployment rate, and 3.2% labor force decline since pre-pandemic, it is easy to see why. 
Five other MSAs on the overvalued list saw the largest value increases in the last twelve months (Austin, Provo, Salt Lake City, San Francisco, and Seattle). Key fundamentals for these market will need to improve to substantiate the current frothy price levels.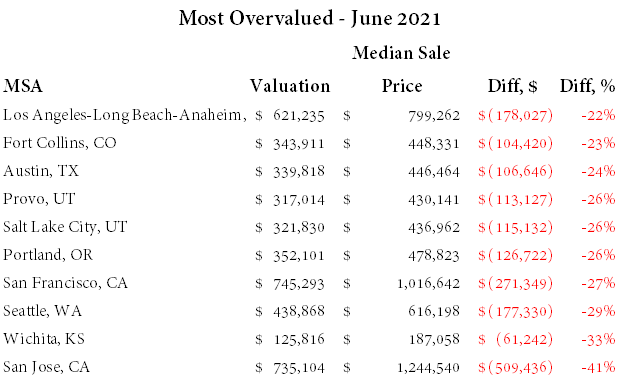 Full Market valuations compared against most recent median sale prices by MSA. Markets are ranked based on most undervalued. For methodology and full detail behind valuations, read the full article here.
| | | | | | |
| --- | --- | --- | --- | --- | --- |
| Rank | MSA | Valuation | Median Sale Price | Value Diff, $ | Value Diff, % |
| 1 | Winston-Salem, NC | $ 332,304 | $ 193,620 | $ 138,684 | 72% |
| 2 | Fort Myers, FL | $ 410,270 | $ 253,612 | $ 156,658 | 62% |
| 3 | Cleveland, OH | $ 262,227 | $ 175,674 | $ 86,553 | 49% |
| 4 | Greensboro, NC | $ 276,288 | $ 185,922 | $ 90,366 | 49% |
| 5 | Miami-Fort Lauderdale, FL | $ 521,419 | $ 354,321 | $ 167,098 | 47% |
| 6 | Rochester, NY | $ 259,051 | $ 179,493 | $ 79,558 | 44% |
| 7 | Allentown, PA | $ 335,502 | $ 238,013 | $ 97,489 | 41% |
| 8 | Tampa, FL | $ 396,288 | $ 282,423 | $ 113,865 | 40% |
| 9 | Lakeland, FL | $ 332,490 | $ 242,547 | $ 89,943 | 37% |
| 10 | North Port-Sarasota-Bradenton, FL | $ 461,385 | $ 338,725 | $ 122,660 | 36% |
| 11 | Springfield, MA | $ 342,978 | $ 257,667 | $ 85,311 | 33% |
| 12 | Memphis, TN | $ 296,099 | $ 223,487 | $ 72,612 | 32% |
| 13 | Chicago, IL | $ 364,448 | $ 276,901 | $ 87,547 | 32% |
| 14 | Cincinnati, OH | $ 280,478 | $ 219,260 | $ 61,218 | 28% |
| 15 | Philadelphia, PA | $ 358,405 | $ 281,309 | $ 77,096 | 27% |
| 16 | Detroit, MI | $ 282,048 | $ 227,552 | $ 54,496 | 24% |
| 17 | Albany, NY | $ 276,045 | $ 224,282 | $ 51,763 | 23% |
| 18 | Knoxville, TN | $ 305,539 | $ 248,622 | $ 56,917 | 23% |
| 19 | Toledo, OH | $ 178,743 | $ 146,358 | $ 32,385 | 22% |
| 20 | Atlanta, GA | $ 374,704 | $ 309,259 | $ 65,445 | 21% |
| 21 | Daytona Beach, FL | $ 328,749 | $ 271,653 | $ 57,096 | 21% |
| 22 | Indianapolis, IN | $ 282,549 | $ 234,384 | $ 48,165 | 21% |
| 23 | Riverside, CA | $ 564,180 | $ 470,958 | $ 93,222 | 20% |
| 24 | Stockton, CA | $ 553,086 | $ 462,326 | $ 90,760 | 20% |
| 25 | Buffalo, NY | $ 229,759 | $ 194,420 | $ 35,339 | 18% |
| 26 | Boston, MA | $ 647,516 | $ 551,958 | $ 95,558 | 17% |
| 27 | El Paso, TX | $ 221,144 | $ 190,730 | $ 30,414 | 16% |
| 28 | Dayton, OH | $ 191,974 | $ 167,169 | $ 24,805 | 15% |
| 29 | Pittsburgh, PA | $ 231,362 | $ 201,832 | $ 29,530 | 15% |
| 30 | Orlando, FL | $ 346,023 | $ 302,948 | $ 43,075 | 14% |
| 31 | New York, NY | $ 570,172 | $ 499,433 | $ 70,739 | 14% |
| 32 | Charlotte, NC | $ 360,403 | $ 315,742 | $ 44,661 | 14% |
| 33 | St. Louis, MO | $ 246,910 | $ 217,161 | $ 29,749 | 14% |
| 34 | Baltimore, MD | $ 358,108 | $ 316,310 | $ 41,798 | 13% |
| 35 | Jacksonville, FL | $ 324,673 | $ 289,899 | $ 34,774 | 12% |
| 36 | Jackson, MS | $ 251,446 | $ 225,250 | $ 26,196 | 12% |
| 37 | Providence, RI | $ 373,058 | $ 339,796 | $ 33,262 | 10% |
| 38 | Fresno, CA | $ 367,781 | $ 336,570 | $ 31,211 | 9% |
| 39 | New Haven, CT | $ 296,001 | $ 270,922 | $ 25,079 | 9% |
| 40 | Akron, OH | $ 177,890 | $ 163,371 | $ 14,519 | 9% |
| 41 | Augusta, GA | $ 235,470 | $ 218,134 | $ 17,336 | 8% |
| 42 | Birmingham, AL | $ 254,745 | $ 236,718 | $ 18,027 | 8% |
| 43 | Baton Rouge, LA | $ 249,013 | $ 231,916 | $ 17,097 | 7% |
| 44 | Harrisburg, PA | $ 227,299 | $ 211,904 | $ 15,395 | 7% |
| 45 | Oklahoma City, OK | $ 228,954 | $ 215,744 | $ 13,210 | 6% |
| 46 | Grand Rapids, MI | $ 268,502 | $ 253,122 | $ 15,380 | 6% |
| 47 | Hartford, CT | $ 277,386 | $ 263,484 | $ 13,902 | 5% |
| 48 | Tulsa, OK | $ 222,461 | $ 211,551 | $ 10,910 | 5% |
| 49 | Nashville, TN | $ 365,357 | $ 348,155 | $ 17,202 | 5% |
| 50 | Columbus, OH | $ 252,954 | $ 241,399 | $ 11,555 | 5% |
| 51 | Dallas-Fort Worth, TX | $ 341,228 | $ 329,447 | $ 11,781 | 4% |
| 52 | New Orleans, LA | $ 248,858 | $ 243,673 | $ 5,185 | 2% |
| 53 | Raleigh, NC | $ 344,172 | $ 338,081 | $ 6,091 | 2% |
| 54 | Milwaukee, WI | $ 226,958 | $ 224,275 | $ 2,683 | 1% |
| 55 | Virginia Beach, VA | $ 282,679 | $ 280,195 | $ 2,484 | 1% |
| 56 | Las Vegas, NV | $ 346,220 | $ 344,518 | $ 1,702 | 0% |
| 57 | Minneapolis-St Paul, MN | $ 325,799 | $ 326,472 | $ (673) | 0% |
| 58 | Greenville, SC | $ 241,471 | $ 242,174 | $ (703) | 0% |
| 59 | Ventura, CA | $ 730,947 | $ 733,186 | $ (2,239) | 0% |
| 60 | Charleston, SC | $ 344,154 | $ 347,367 | $ (3,213) | -1% |
| 61 | Worcester, MA | $ 335,770 | $ 339,313 | $ (3,543) | -1% |
| 62 | Washington, DC | $ 462,527 | $ 468,255 | $ (5,728) | -1% |
| 63 | Albuquerque, NM | $ 266,360 | $ 271,625 | $ (5,265) | -2% |
| 64 | Bakersfield, CA | $ 284,943 | $ 291,409 | $ (6,466) | -2% |
| 65 | Kansas City, MO | $ 258,230 | $ 265,138 | $ (6,908) | -3% |
| 66 | Tucson, AZ | $ 277,545 | $ 285,732 | $ (8,187) | -3% |
| 67 | Louisville-Jefferson County, KY | $ 215,734 | $ 222,260 | $ (6,526) | -3% |
| 68 | Phoenix, AZ | $ 362,948 | $ 374,463 | $ (11,515) | -3% |
| 69 | Stamford, CT | $ 503,840 | $ 520,953 | $ (17,113) | -3% |
| 70 | Houston, TX | $ 274,563 | $ 291,458 | $ (16,895) | -6% |
| 71 | San Antonio, TX | $ 254,133 | $ 271,502 | $ (17,369) | -6% |
| 72 | Colorado Springs, CO | $ 378,807 | $ 410,917 | $ (32,110) | -8% |
| 73 | Sacramento, CA | $ 472,642 | $ 513,869 | $ (41,227) | -8% |
| 74 | Omaha, NE | $ 219,034 | $ 242,022 | $ (22,988) | -9% |
| 75 | Richmond, VA | $ 264,518 | $ 295,494 | $ (30,976) | -10% |
| 76 | Little Rock, AR | $ 170,617 | $ 194,266 | $ (23,649) | -12% |
| 77 | Des Moines, IA | $ 209,809 | $ 242,886 | $ (33,077) | -14% |
| 78 | Madison, WI | $ 270,848 | $ 320,008 | $ (49,160) | -15% |
| 79 | Ogden, UT | $ 322,239 | $ 381,854 | $ (59,615) | -16% |
| 80 | Urban Honolulu, HI | $ 508,712 | $ 614,591 | $ (105,879) | -17% |
| 81 | Boise City, ID | $ 361,761 | $ 445,117 | $ (83,356) | -19% |
| 82 | San Diego, CA | $ 575,106 | $ 723,010 | $ (147,904) | -20% |
| 83 | Denver, CO | $ 405,788 | $ 510,429 | $ (104,641) | -21% |
| 84 | Los Angeles-Long Beach-Anaheim, CA | $ 621,235 | $ 799,262 | $ (178,027) | -22% |
| 85 | Fort Collins, CO | $ 343,911 | $ 448,331 | $ (104,420) | -23% |
| 86 | Austin, TX | $ 339,818 | $ 446,464 | $ (106,646) | -24% |
| 87 | Provo, UT | $ 317,014 | $ 430,141 | $ (113,127) | -26% |
| 88 | Salt Lake City, UT | $ 321,830 | $ 436,962 | $ (115,132) | -26% |
| 89 | Portland, OR | $ 352,101 | $ 478,823 | $ (126,722) | -26% |
| 90 | San Francisco, CA | $ 745,293 | $ 1,016,642 | $ (271,349) | -27% |
| 91 | Seattle, WA | $ 438,868 | $ 616,198 | $ (177,330) | -29% |
| 92 | Wichita, KS | $ 125,816 | $ 187,058 | $ (61,242) | -33% |
| 93 | San Jose, CA | $ 735,104 | $ 1,244,540 | $ (509,436) | -41% |